Picking a location for a new brokerage office can be stressful. You want high visibility, space for agents, a lobby that sets the tone and something that speaks to your potential and current clientele. All of these aspects can make a broker-owner like myself go batty.
When I started out in this industry, before I even knew that I wanted to open an independent brokerage, I saw a little office in the Channel Islands Harbor and said to myself, "If that ever comes available, I'm going to rent it."
One rainy day, I saw it and rented it for $1,000 a month. I figured even if I had to turn it into a speakeasy, I would do something with the space. It became the first office of The Address.
When we opened with a franchise, everyone had opinions about the space requirements and did location scouting. Some brokerage companies don't want an office on a second floor — but sometimes proximity to the relevant traffic flowing to businesses around yours is more important than blindly following general rules of thumbs.
My newest office in The Address expansion is on a second floor, upstairs from the most exclusive jeweler in Newport Beach. I know that the parties they'll throw will be worth being on that second floor.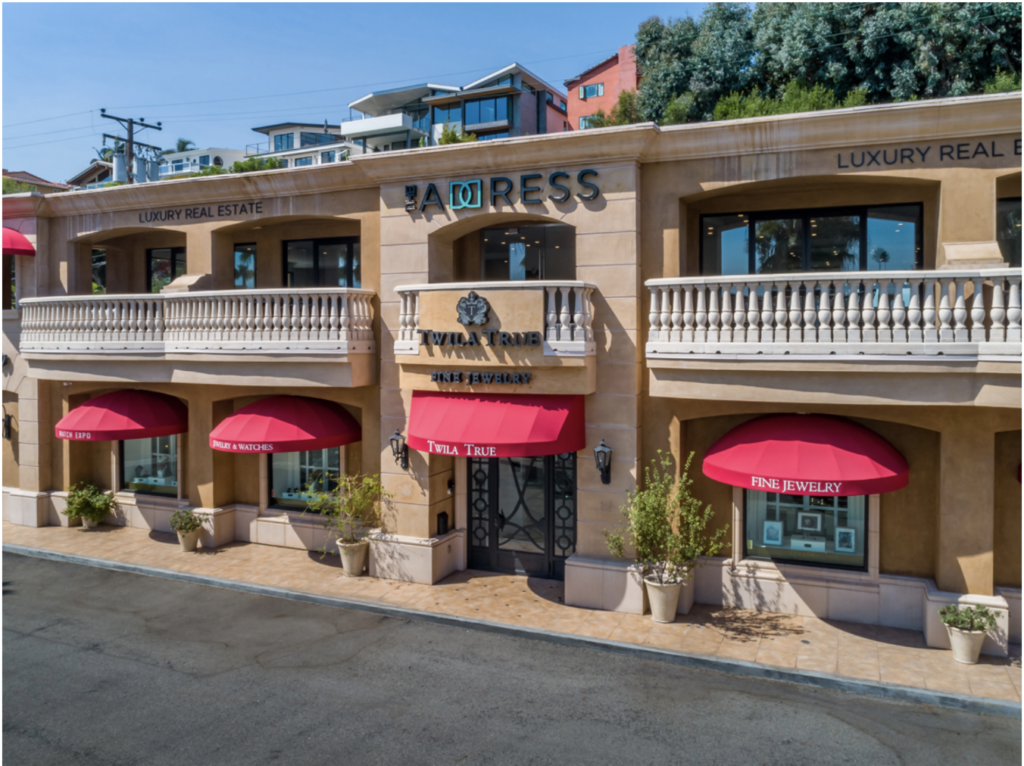 It's also next door to the Ferrari dealership and across the street from the Balboa Bay Club. That location is where I want to be because I know and understand my market; it's the kind of thing a franchise won't consider.
As an indie brokerage, where we work is meaningful to us because it also happens to be where we live. We love properties, but we love people even more.
Our brokerage is a community hub, where you can swing by for a handcrafted coffee or Kombucha or just pop in to say hello and see what's happening in the community. It's also not unusual to find an industry seminar on the latest design trends or a fundraiser to support the local Boys & Girls Clubs happening at our office on any given day.
So after years of hard-won experience and agonizing over my decisions, I've developed a streamlined formula anyone can use. It will be useful to businesses of all sizes — from a lone agent building his or her brand to a large brokerage looking to expand.
Here are a few of the positives and negatives to think about when selecting the right office location for your business:
Attributes to look for
1. A highly accessible location with great visibility
Make sure the building is easily accessible. Bonus points if it's right off a main thoroughfare with lots of foot traffic. Glass windows showcasing the lifestyle and listings entice people to step inside. A coffee bar or inviting lounge will make clients and agents feel at home. Think about those you serve and make sure your brokerage represents their needs.
2. A building that showcases the lifestyle
Are you a brokerage that sells life on the beach, ski homes in the mountains or luxury high rises next to culture and the arts? Whatever your specialty, you should pick a spot that puts you right in the middle of the action.
3. Spacious interiors where your agents can thrive
This is crucial — whether you're an agent looking to make a move to a new brokerage — or a leader looking to better serve your agents so they can excel. Nothing creates more of an impact than rolling out the red carpet, so to speak, for incoming agents who are eager to sell.
4. Location is important, but technology, training and collaborative spaces are too
Make sure your building is wired and ready to go. Get things organized so agents can hit the ground running. Make sure your space has conference rooms, places for people collaborate and an area for training.
Attributes to avoid
1. A remote or difficult-to-find location just because it's cheaper
Don't pick a spot that is remote or unseen, just to save a buck. This won't help to increase your business or attract the right kind of agents.
Nobody wants to haul out to a remote area or part of town that is difficult to get to.
2. Unsightly frontage or a building that needs repairs
Never let those branding signs be in disarray. Never set up shop in a run-down building. Unless you are willing to shell out a huge sum upfront to project the image of the clientele you seek, keep moving. A clean, fresh and well-kept storefront is always an important part of the process.
3. Cramped interiors with little street visibility
Have you noticed that even the boutique brokerages are investing in spaces that bring the outdoors in? This is a marketing tactic that works. Cramped interiors or closed off buildings with few windows deter clients and buyers from dropping in. You're closing off your opportunities when potential clients don't even give you a look.
If you need some inspiration and happen to be in the Malibu area, I am pleased to announce the opening of our newest office right off the Pacific Coast Highway, which will serve the Malibu community and surrounding areas. We are also on the verge of a grand opening in Newport Beach as well. These will be our third and forth office locations since opening our first in the Channel Islands Harbor in May of 2017.